Vermont Square Methodist Church
Primary tabs
Posted by

somebody

on

Friday, 28 May 2010
Click here for Diversify Your Dance Workshop information.
I was looking for the history of the Vermont Square Methods Church and found this in the Pacific Coast Architecture Database:
Vermont Square Methodist Church #2, Los Angeles, CA
ID:
6961
Construction Date:

Start Date

: 1925


End Date

: 1926
Building History:
This congregation was founded in 1907 by Rev. C.J. Miller. Carleton Monroe Winslow, Sr., designed the church to hold 800 parishoners and the school 1500 students. The cornerstone was laid 05/31/1925 on the $150,000 facility. The Escherich Brothers served as Building Contractors for the church and school.
Structure Type:
built works - religious structures - churches
https://digital.lib.washington.edu/architect/structures/6961/
I was immediately fascinated by the fact that this building is nearly 100 years old!  Think about it for a moment:  This church has been serving the surrounding Los Angeles comminity since Roaring Twenties.  Just Google "Vermont Square Methodist Church" to see some of it's wonderful history for yourself.  I truly hope it is to be preserved as a Los Angeles Historical Landmark.
Our group has been using this facility for our rehearsals since the Summer of 2009.  This huge building has 3 stories of rooms, plus an underground level!  It is structurally sound, but due to lack of funding and use, some of the rooms have fallen into disrepair.
The 3rd floor of this grand old building has 3 adjacent rooms which would be perfect for dances, dance classes and workshops and meetings.  However, the floors and ceilings require quite a bit of rennovation in order to be usable by the general public. 
As we decided to use the church in order to raise funds for our dance group, we also decided to raise funds for the church as well -- kill two birds with the same stone, so to speak.  We hope we are successful because this church is a wonderful community resource and should be supported much more actively than it is today.
Vermont Square United Methodist Church
4410 South Budlong (corner of Vernon and Budlong)
Los Angeles, CA 90037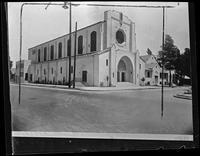 Click here for Diversify Your Dance Workshop information.